STUDY IN NEW ZEALAND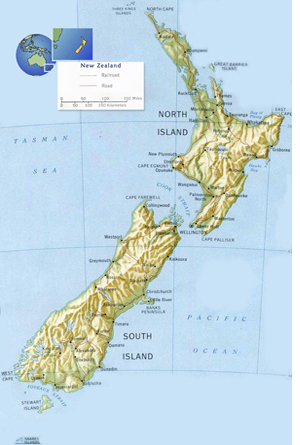 Study in New Zealand
Introduction
New Zealand (Aotearoa in Māori) is an island country in the south-western Pacific Ocean comprising two main landmasses (the North Island and the South Island) and numerous smaller islands. The country is situated some 1,500 kilometres (900 mi) east of Australia across the Tasman Sea, and roughly 1,000 kilometres (600 mi) south of the Pacific island nations of New Caledonia, Fiji, and Tonga.
The majority of New Zealand's population is of European descent; the indigenous Māori are the largest minority, followed by Asians and non-Māori Polynesians. Māori and New Zealand Sign Language are the official languages, with English predominant. Much of New Zealand's culture is derived from Māori and early British settlers. Early European art was dominated by landscapes and to a lesser extent portraits of Māori. A recent resurgence of Māori culture has seen their traditional arts of carving, weaving and tattooing become more mainstream. Many artists now combine Māori and Western techniques to create unique art forms. The country's culture has also been broadened by globalisation and increased immigration from the Pacific Islands and Asia.
Education System in the New Zealand
New Zealand has an international reputation as a provider of quality education with a wide range of learning options. It has a progressive education system with many state of the art facilities. It offers a safe learning environment with excellent study opportunities and support services for international students. Courses are available for academic, professional and vocational studies at New Zealand institutions - universities, polytechnics and institutes of technology, colleges of education, secondary schools and private training establishments. New Zealand produces top graduates who can take their place with confidence in the international arena in many disciplines.
Why New Zealand
Whilst New Zealand is a small and distant destination, it is a unique country in which to study and gain a qualification. You'll find the rewards are well worth making the journey for, as well as training that simply can't be found anywhere else in the world.

No wonder New Zealand is the ultimate outdoor adventure playground, offering every kind of thrill and degree of blood-pumping adrenalin adventure to pure hedonistic relaxation and pleasure.

New Zealanders are famed for their friendliness, hospitality and warmth to overseas visitors, and enjoy meeting folk from other cultures.

You can expect a high standard of living conditions.

Secondary and tertiary education in New Zealand offers an attractive and stimulating academic environment. The institutions are diverse in size and location, and offer a wide range of general and specialist courses.

The quality of a New Zealand tertiary education is well-recognized internationally Many New Zealand graduates go on to postgraduate study in other countries, prior to taking up careers overseas or in New Zealand.

New Zealand offers a safe and stable democratic political environment.

A great variety of recreational and cultural experiences are available in a country renowned for its natural rugged beauty, yet without any dangerous animals.

Living and tuition costs compare well with other countries Travel to New Zealand is easy, with direct flights from most major cities.

Of course, there are many sports activities: schools, universities and colleges offer excellent sport facilities for students who want to play tennis, squash, cricket, basketball, soccer, netball, softball or rugby. Many of these activities and sports are within walking distance or easy traveling time from student campuses.
Universities In New Zealand
University education was established in New Zealand in 1870 and has a similar tradition to the British university system. There are eight state-funded universities in New Zealand, all of them internationally respected for their academic and research performance. In addition to a centrally coordinated system of quality assurance audits at both institution and programme level, each Institution undertakes internal quality checks.
All New Zealand universities offer a broad range of subject in Arts, Commerce and Science. Each has developed its own specialist subjects such as Medicine, Engineering, Veterinary Science, Computer Studies, Agriculture and Environmental Studies.

There are 9 universities and few exceptionally reputed institutes of technology, polytechnics, private institutes, namely :

1. University of Auckland
2. University of Waikato
3. Massey University
4. Victoria University of Wellington
5. Lincoln University
6. Auckland University of Technology
7. University of Canterbury
8. University of Otago
9. Manukau Institute of Technology
List of Colleges in New Zealand
1. Waikato Institute of Technology
2. UNITEC
3. Whitireia Community Polytechnic
4. Waiariki Polytechnic, Rotorua Campus
5. Nelson Marlborough Institute of Technology
6. Open Polytechnic of New Zealand
7. Southern Institute of Technology
8. Northland Polytechnic
9. International Pacific College
10. Cornell Institute of Business & Technology ( CIBT)
11. Royal Business College
11. Royal New Zealand College of General Practitioners
12. Canterbury College of Natural Medicine
13. Massey University Wellington Campus
14. Bay of Plenty College of Homeopathy
15. Christchurch College of Holistic Healing
16. New Zealand Radio Training School
17. Thames Business School
18. Raffles Design Institute, Auckland
19. Western Institute of Technology, Taumarunui Campus
20. Western Institute of Technology at Taranaki
21. Christchurch Polytechnic@
22. Wellington Institute of Technology
23. Western Institute of Technology at Taranaki
24. Eastern Institute of Technology
25. Christchurch Polytechnic Institute of Technology
26. Otago Polytechnic
27. Pacific International Hotel Management School
28. Design and Arts College
29. Auckland Institute of Studies - St. Helens
30. Universal College of Learning
31. Academic College Group
Documents Checklist for New Zealand

Entry Requirements:
· Academic Documents
· Passport/MRP Copy
· IELTS Score Sheet- Minimum 6.0
Visa Checklists

Forms and Other Supporting Documents:
Completed Form NZ1012 (Application for a Student Visa)

Supplementary Form (Details of Relatives )

Financial Undertaking Form (If more than one guarantor)

Offer Letter from The Institution

Statement of Purpose(SOP)

Cover Letter
Financial Documents:
Education Loan (SBI

or

Nabil Bank

) to cover living expenses, tuition fees and travel cost.

Evidence of income of parents and sponsor (salary, house rent and business income)

Registration Certificate or Paper if any Business.

Audit Report if any Business.

Property Valuation

Tax Clearance Certificate

CA report/Certificate
Other Essential Documents:
Relationship Certificate with Sponsor

Birth Certificate/Citizenship certificate

Marriage Certificate

Land Revenue/Land Ownership Certificate

Affidavit of Support from Sponsors

Sponsors Authorization letter

Employment History if any Gap more than One Year

Medical report

2 Copies Recent Passport Sized Photographs(45mm×35mm)
Note: Please do translate documents in English language if they are in Nepali Language and do not require original documents to be submitted other than the passport and medical report at the Immigration New Zealand, New Zealand High Commission, New Delhi.
Job Opportunities In New Zealand
Working in New Zealand - for international students
What is the employment situation in New Zealand?
Read the New Zealand Treasury website and find out about how New Zealand's economy is doing compared to other countries on New Zealand Treasury. The section entitled "The New Zealand Economy" gives a brief and simple overview and is updated annually. Find out there what the current employment rate is.

On the Careers Services Rapuara website you can look up your occupation or industry of interest (in the "Job Outlines" section) and read more specifically what the employment trends and employment conditions are in that sector of the New Zealand employment market.
Many international students are entitled to work up to 20 hours per week during the academic year and full-time over the summer break or holidays.
Part-time Work
International students may be eligible to work up to 20 hours per week if they are:
Enrolled in a full-time course lasting at least two academic years studying towards a New Zealand qualification that would gain points under New Zealand residence policy or studying a full-time course to develop English language skills – to qualify, you must have an IELTS (Academic Module) overall band score of at least 6.0
Contact the New Zealand Immigration service or visit their website http://www.immigration.govt.nz for more information You must not undertake employment in New Zealand until you have permission from the New Zealand Immigration Service. Often this permission stating your right to work is automatically printed on your student visa label. However, if you believe you are entitled to work and it is not shown on your student visa label, you should approach the New Zealand Immigration Service and request a 'variation of conditions'.
Can I get a job with my degree in New Zealand?
You can get a job in New Zealand with your degree depends on a variety of factors, but two of the most important are:

The Labour Market: If there is a shortage of skill in New Zealand in your occupation, it will be easier to find work as well as the necessary visas. To find out about this, research the labour market. The Department of Labour produces a series of Labour Market Reports. Immigration New Zealand produces an "Immediate Skill Shortage List" and a "Long Term Skill Shortage List".

Personal Factors: The job search strategy you use, what skills you can offer employers, the quality of your application, language competence and how you present yourself all influence your chances of getting a job. Remember your degree is not enough! See what other factors employers also consider below.
What are the visa regulations/requirements?
New Zealand Immigration allows students with a student visa who are completing a degree at this University to work a certain number of hours per week while studying and also to work during holiday periods. This depends on the duration of the course and other factors.New regulations also stipulate that graduates are eligible to apply for an open work permit once they have graduated.

Please consult the New Zealand Immigration website for the latest information
New Zealand Immigration also does presentations on campus - check Auckland CareerHub on a regular basis for notices about events.

See Auckland CareerHub
The International students section of the University website has a section on visas and immigration and University staff that advise students on these issues.

See International students
Many organizations require permanent residence before even considering an applicant for a position. If you obtained a job with the 6 month open work permit that is relevant to your studies, you may in fact qualify for the minimum points required to submit a permanent residence Expression of Interest application.
What do NZ employers look for?
There is no one specific thing employers look for that is more important than another. It depends on the organisation and the particular job. Employers look at all the factors below and make up their minds about the entire "package" (which is you!) as a whole. English - English competence refers to proficiency in listening, speaking fluency and accuracy, writing and reading. You need to start early on during your studies to develop the best level of competency you can achieve. Use the specialized
English Language Support Services at the University, and create opportunities to practice your English with native speakers. Relevant work experience is an excellent way to pick up language that is more career focused and to get exposure to the New Zealand workplace and culture. When you apply for your first job, the employer may be comparing your levels of English to that of a native speaker.

Knowledge - you should be able to describe and talk about the knowledge you gained during your studies. Show how it is relevant to the job and how it will add value to the organization. Good grades also help! If your qualification was obtained abroad, you may need to get it assessed by the New Zealand Qualifications Authority (NZQA) to verify its equivalence to a NZ qualification.

NZ work experience - employers like to see some NZ work experience on CVs, especially if it is career related. Many international students find it hard to get work when they have finished their studies because they have no New Zealand work experience. While you are studying, use the opportunity to work part time and during holidays. Start working for a smaller organization where your ethnicity could be an advantage or get your foot in the door by doing volunteer work.

There is information, workshops and help from the University Careers Services available to you on how to identify your skills and personal qualities, search for a job, write a NZ style CV, practice yourinterview skills, learn about employment contracts and lots more. To find out more, contact the University Careers Service.
Part-time work while studying in New Zealand:
Current regulations allow tertiary students undertaking a long-term course of study to work up to 15 hours a week, and during Christmas and New Year holiday periods. Take advantage of this to build up your work experience. You still need to apply to the Immigration Service for authority to work here, even part-time.

If your long-term plan is to stay in New Zealand, start building relationships with possible local employers well before you finish your studies. That way people will get to know you as a person.
Before they can offer you a job, employers have to provide evidence that no NZ citizen or resident, who is suitably qualified by training and experience (or readily able to be trained) is available. Try to build up a package of skills which will make you uniquely qualified for the work you want to do.
Think of your job market as the whole of New Zealand. Skill shortages vary from place to place. Job Seeking for International Students target organizations which have a multinational or multicultural focus. Your language skills and cultural background may give you an advantage.

Become familiar with the activities offered by your Careers Service and participate in everything you can, especially
The Graduate Recruitment Programme Job seeking workshops such as CV writing, interview skills, information interviewing, testing and assessment.

Also use their information resources and ask for careers advice if necessary.

Network. Keep a record of the names and details of people you meet. Practice introducing yourself. Develop relationships with people in organizations you'd like to work for.

Set up a file for copies of any job vacancy that interests you. Keep adding to it. You are building a database of potential employment contacts. Collect business cards.
Check the expiry date on your Overseas Driver License or International Driving Permit. If necessary apply for a New Zealand Driver License.
I've got a job!
Your first day in a new job can be very exciting - and very confusing, especially if you're an International Student working away from your home country. Every workplace has its own 'mini-culture' and that can take some time to work out.
If you aren't sure about anything - ask!
Waiting to be told what to do might be interpreted as laziness, which is not what you want!
Make sure you check out your employer's policy on using your cell phone, sending and receiving personal emails, and accessing the Internet. Typically, employers will expect you to use your cell phone only during breaks and may prefer that your work computer is used only for work activities. Don't be tempted to break your employer's rules.
People use jokes and humor at work, mostly just to have a laugh and sometimes to reduce tension in a stressful situation. Don't worry if you don't 'get' the jokes and certainly don't think people are laughing at you. In time you'll pick up the Kiwi style of humor.
Resources:
There is a wide range of resources available to you both at the Vic Careers Resource Library and on our website. Listed below is a sample of some of the resources that are most popular with international students -but remember, we have much, much more!

Websites:
Vic Careers: http://www.vuw.ac.nz/st_services/careers/

Kiwi Careers: http://www.careers.co.nz/lists/vacancy/vaclist.htm

NZ Vice-Chancellors' Committee (for Graduate Destinations Report)
http://www.nzvcc.ac.nz/grdestinations.htm

NZ Immigration Service: http://www.immigration.govt.nz/work/

Minimum Wage has increased to $12.50
The minimum wage has changed from $12.00 per hour to $12.50. Anyone working for less than $12.50 will have the right to have their hourly wage increased. For further information please go tohttp://www.dol.govt.nz
Types of Jobs
The majority of jobs are in hospitality, retail, office and household industries. The roles include: Retail Staff, Cafe Staff, Office Staff, Bar Staff, Tutors, Gardening Staff, Restaurant Staff, IT Staff, Childcare Staff, and Sales Staff.